Sleep Signals Announce The High Tides Tour with Elisium
|
Minneapolis, MN-based rockers Sleep Signals recently released their album, At the End of the World, produced by Justin Rimer (Saving Abel, 12 Stones) to all digital outlets. In continued support of the release the band will return to the road on 'The High Tides Tour' with Elisium. The tour is presented by Relik Management and will kick off on November 2, 2017 in La Crosse, WI and conclude December 9th in Chippewa Falls, WI at Every Buddy's..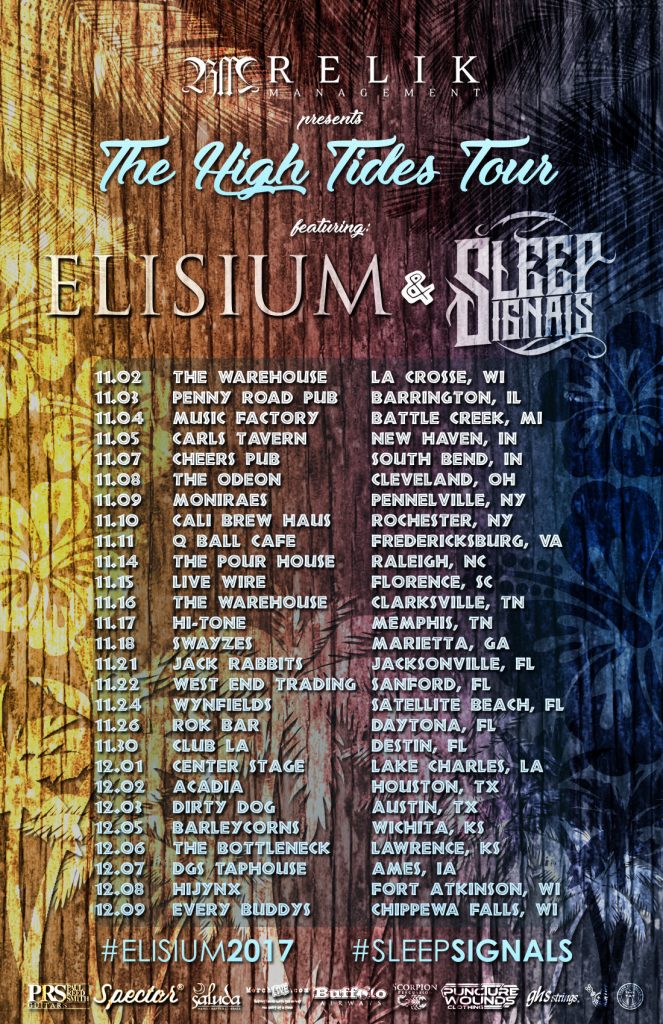 2017 continues to be a huge year for Sleep Signals, starting with the release of their new single, "I'll Save You", on 1/27/17, along with an accompanying music video that the band shot in the frigid woods of Minnesota. The single was produced by Justin Rimer (Saving Abel, 12 Stones) at Crosstrax Studio in Memphis, TN. The band followed this up with a live music video shot at Northern Invasion in Somerset, WI for the single, "Suit & Tie Suicide", released on 7/11/17.
Founded in 2014, Sleep Signals have garnered a dedicated following through relentless touring, their explosive live performances, and their ability to blend catchy hooks with their high-energy songwriting style. Since hitting the road in early 2015, the band has played more than 175 shows in over twenty-five states, building a solid fan base across the country.
The band released their second EP, Transitions, in early 2016 and followed it up with US tours with heavy hitters Screaming for Silence and Lydia Can't Breathe. They have also shared the stage with bands like Seether, In Flames, Saving Abel, Bobaflex, Ill Nino, The Dillinger Escape Plan, Every Time I Die, Alesana, Volumes, Capture the Crown, The Browning, Letters from the Fire, and 3 Pill Morning, and have performed at festivals including Northern Invasion, SXSW, and Texas Rock Fest.
Elisium is a band of 3 guys from Fredericksburg, Virginia. Since quitting their jobs 4 years ago to tour full time, the band has toured through 45 states and played literally hundreds of shows. Their sound is most often compared to Tool and Chevelle. Heavy, groovy riffs with vocal harmonies and thought provoking lyrics define the sound of Elisium.
With a new record coming out on November 10th 2017, Elisium has secured management through The Essential Group and Ricky Clair (Candlebox, Matisyahu, Fit For Rivals) and will be releasing singles to radio and all digital streaming outlets. The new album "Significantius Vitae" was produced by Jose Urquiza from 3 Years Hollow, and the band's fanbase across the country continues to grow in response to their aggressive touring schedule.
The High Tides Tour Dates
11/2 La Crosse, WI @ The Warehouse
11/3 Barrington, IL @ Penny Road Pub
11/4 Battle Creek, MI @ The Music Factory
11/5 New Haven, IN @ Carl's Tavern
11/7 South Bend, IN @ Cheer's Pub
11/8 Cleveland, OH @ The Odeon
11/9 Pennellville, NY @ Monirae's
11/10 Rochester, NY @ The California Brew Haus
11/11 Fredericksburg, VA @ Q Ball Cafe
11/14 Raleigh, NC @ The Pour House
11/15 Florence, SC @ Live Wire
11/16 Clarksville, TN @ The Warehouse
11/17 Memphis, TN @ Hi-Tone
11/18 Marietta, GA @ Swayze's
11/21 Jacksonville, FL @ Jack Rabbits
11/22 Sanford, FL @ West End Trading Co.
11/24 Satellite Beach, FL @ Wynfield's
11/26 Daytona Beach, FL @ Rok Bar
11/28 Birmingham, AL @ The Nick
11/30 Destin, FL @ Club L.A.
12/1 Lake Charles, LA @ The Center Stage
12/2 Houston, TX @ Acadia
12/3 Austin, TX @ Dirty Dog Bar
12/5 Wichita, KS @ Barleycorn's
12/6 Lawrence, KS @ The Bottleneck
12/7 Ames, IA @ DG's Tap House
12/8 Fort Atkinson, WI @ Hijynx
12/9 Chippewa Falls, WI @ Every Buddy's Bar
---
Don't forget to follow our Spotify Playlist: