Walter Trout announces 'ALIVE in Amsterdam'
|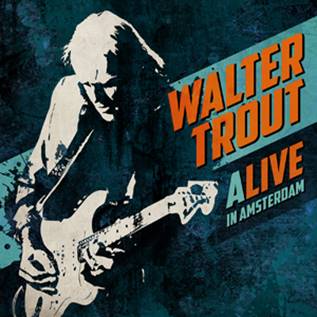 To be released June 17th on Mascot/Provogue, 'ALIVE in Amsterdam' is the sound of a man announcing his resurrection after a period on the ropes. As Trout's army of international fans are painfully aware, recent times have taken the bandleader to the brink, following a bleak diagnosis of life-threatening liver failure and hepatitis C in 2013. Trout's rebirth began with a successful transplant in May 2014, and gathered pace with 2015's 'Battle Scars': the acclaimed studio album that channeled his near-death experience into raw autobiographical songs.
Walter Trout has never sounded so alive. The date is November 28th, 2015. The location is Amsterdam's opulent Royal Theatre Carré. And the occasion is a live performance of the blues-rock legend at full-throttle. "We were rocking," remembers Trout of the comeback concert captured on 'ALIVE in Amsterdam.' "If people are expecting a laid-back show, that's not what they'll get. This is potent stuff…"
Yet for this lifelong road-warrior, a return to the stage was always the ultimate goal. And last summer, as Trout headed out on a comeback tour that blew the roof off venues from the Royal Albert Hall to Buddy Guy's Legends club in Chicago, every fan in the house saw that the man wasn't just back, he was better than ever. "That whole tour was kinda triumphant for me," Trout reflects. "Just to be back, after what I went through. But also to be playing with a renewed energy and commitment.
With songs pulled from every era of his five-decade career, the 'ALIVE in Amsterdam' set is potent stuff indeed, from the stinging Luther Allison cover "I'm Back," to the plaintive B.B. King tribute "Say Goodbye To The Blues," which builds from neck-tingling guitar swells to a stunning virtuoso climax. 'Battle Scars' is well-represented by the harmony-bolstered rocker "Almost Gone" and the raucous "Tomorrow Seems So Far Away," while Trout is joined by his son Jon for "Rock Me Baby," and even finds time for a fistful of fan favorites, including "The Love That We Once Knew" and "Marie's Mood." "You can hear that a guy yells out for 'Marie's Mood,'" he laughs. "I actually hadn't planned on doing that one…"
Urgent, impassioned and electrifying, it's a live album to treasure, and the perfect appetite-whetter as Trout heads out on tour this year, stopping off at some of the most prestigious venues and festivals in the US and Europe. Walter shows you magic in the studio, of course. But it's on the stage where he truly comes alive. "I get into the energy and the moment and the excitement of it all," he says. "I think I'm a very different guitarist live…"
Walter Trout – ALIVE In Amsterdam  tracklist:
01. Marie's Introduction
02. Play The Guitar
03. Help Me
04. I'm Back
05. Say Goodbye To The Blues
06. Almost Gone
07. Omaha
08. Tomorrow Seems So Far Away
09. Playin' Hideaway
10. Haunted By The Night
11. Fly Away
12. Please Take Me Home
13. Rock Me Baby
14. Marie's Mood
15. Serve Me Right To Suffer
16. The Love That We Once Knew
---
Don't forget to follow our Spotify Playlist: