Today Hans Dulfer celebrates his 75th birthday
|
Hans Dulfer, one of Europe's most famous jazz saxophonist, is celebrating his 75th birthday today. Hans Dulfer, also known as 'Dulfer', is a self-taught professional musician since the age of seventeen. In his 58-year career Dulfer played with names like Boy Edgar, Ben Webster, Clous van Mechelen, John McLaughlin, Willem Breuker, Jan Akkerman, Herman Brood, Saskia Laroo, and of course his daughter Candy Dulfer.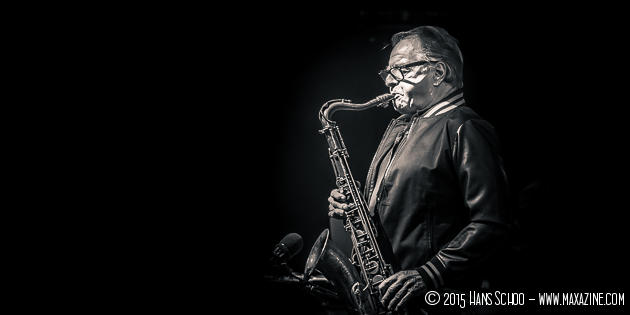 Dulfer won the Wessel Ilcken prize in 1969, now known as the Boy Edgar Prize, and received a gold record in Japan. He was director of Paradiso Amsterdam and board member of the Bimhuis in Amsterdam. He was also the first artist in the world to release his music on USB stick in 2006.
In 1993 Dulfer won the Bird Award at the North Sea Jazz Festival, and in 2002 he became a Knight of the Order of the Dutch Lion. Tonight Dulfer celebrates his 75th birthday in De Melkweg in Amsterdam, with guest appearances by, among others: Candy Dulfer, multi-DJ Joris Feijertag and David Dam, trombonist Joseph Bowie, trumpeter Saskia Laroo, The Jig, saxophonists Wouter Kiers and Ruud de Vries and DJ Frankie D. & Mulat.
Photo (c) Hans Schoo
---
Don't forget to follow our Spotify Playlist: