Defected presents House Masters Frankie Knuckles, the definitive overview of the carreer of the Godfather of House
|
Defected are honoured to announce the release of House Masters Frankie Knuckles, a charity release in collaboration with Def Mix Management and the estate of Frankie Knuckles. House Masters Frankie Knuckles is a project that began in February 2014, with Frankie hand-selecting the productions and remixes he wanted to include on a retrospective release of his illustrious career. On the sad news of his passing on 31 March 2014, the project was duly paused. Now, with the creation of The Frankie Knuckles Fund established in partnership with the Elton John Aids Foundation, the release will finally see the light of day, with all profits being donated to the charity.
Frankie Knuckles left behind perhaps the greatest house music legacy that ever was or ever will be, having made dance music at a spiritual level for nearly four decades.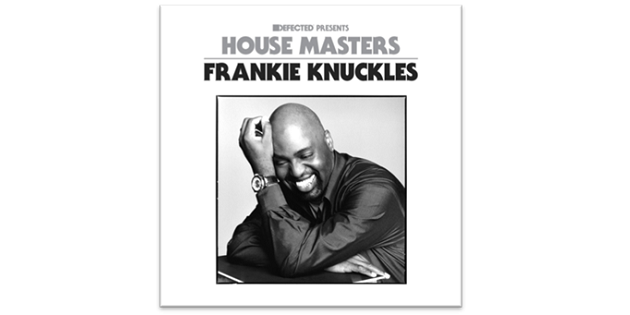 He established both his name and his legacy with the sound he created. Labelled 'house' after the Chicago club, The Warehouse, where he played during the late '70s and early '80s, it was a sound that has been copied and adapted – but crucially never bettered – by literally thousands of DJs and producers since.
The tracklist for House Masters Frankie Knuckles includes many of the most influential and highly-regarded records from the Grammy-winning producer, including 'Tears', 'Your Love', 'The Whistle Song' and 'Baby Wants To Ride' alongside seminal remixes for Alison Limerick, Inner City, Chaka Khan, Hercules & Love Affair, First Choice and Pet Shop Boys.
The release will be accompanied by a limited edition commemorative t-shirt, available exclusively from the Defected online store, with all profits being donated to the Frankie Knuckles Fund.
"The Elton John AIDS Foundation is honoured to be administering a new Fund in memory of Frankie Knuckles. This fund will support the Foundation's work with young men of colour around the World, particularly gay men, who are often subject to severe discrimination and abuse and who struggle to get compassionate information and treatment about HIV and AIDS." Anne Aslett, Elton John AIDS Foundation
The passing of Frankie Knuckles may have left a gaping hole in many of our lives, but the music lives on.
Defected presents House Masters Frankie Knuckles is out 26 April 2015 (2CD and digital) on Defected Records. 100% of the profits will be donated to the Frankie Knuckles Fund.
CD1
01. Frankie Knuckles featuring Jamie Principle 'Your Love'
02. Frankie Knuckles presents Satoshi Tomiie 'Tears' (Classic Vocal)
03. Frankie Knuckles 'The Whistle Song' (Sound Factory Mix)
04. Alison Limerick 'Where Love Lives' (Classic Mix)
05. Hercules & Love Affair 'Blind' (Frankie Knuckles Remix)
06. Frankie Knuckles featuring Roberta Gilliam 'Workout' (1992 Vocal Mix)
07. Frankie Knuckles with Jamie Principle 'Baby Wants To Ride'
08. Andrea Mendez 'Bring Me Love' (Classic Frankie)
09. Frankie Knuckles ‎'Only The Strong Survive' (Club Mix)
10. Frankie Knuckles 'It's Hard Sometime' (FK Classic Club)
11. Adeva 'Beautiful Love' (Extended)
CD 2
01. Inner City 'Whatcha Gonna Do With My Lovin'' (Def Mix)
02. Sounds Of Blackness 'The Pressure' (Frankie Knuckles Classic Mix)
03. The Nightwriters 'Let the Music Use You' (Club Mix)
04. First Choice 'Let No Man Put Asunder' (12″ Frankie Knuckles Remix)
05. Frankie Knuckles ‎'Rain Falls' (FK Original)
06. Rufus & Chaka Khan 'Ain't Nobody' (Hallucinogenic Version)
07. Loose Ends 'Hangin' On A String' (Frankie Knuckles Club Mix)
08. Frankie Knuckles featuring Adeva 'Too Many Fish' (Classic Frankie Version)
09. Lisa Stansfield 'Change' (Knuckles Mix)
10. Pet Shop Boys 'Left To My Own Devices' (Frankie Knuckles Royal Piano Version)
11. Frankie Knuckles presents Director's Cut featuring Jamie Principle 'I'll Take You There' (Director's Cut Classic Signature Mix)
---
Don't forget to follow our Spotify Playlist: