Belgian Bones to release new 'Blood Harvest' vinyl EP‏‎
|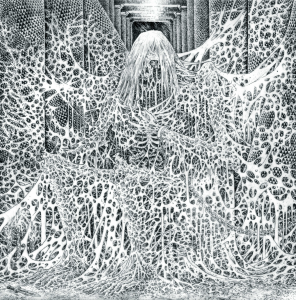 Blood Harvest Records announces December 5th as the international release date for Bones' Awaiting Rebirth 10″ EP. Bones started in Belgium in 2011 with Stef Aertsen, Jeroen De Pauw, and Viktor Walschaerts jamming primitive riffs influenced by old-school death metal acts. After adding Lukas Huybrechts on four-string mayhem, they were prepared. In the autumn of 2012, Bones released a demo tape with focus on quality and passion, recorded live and played with conviction. The first and second batch of demos were quickly sold out, and so a re-release of the tape was done by Morbid Basterd Records and later by Weed Hunter Records. Both these tape re-releases sold out, as well, so finally, Byllepest Distro pressed the demo on 10″ wax.
After releasing the demo, Bones immediately began working on new material, with an increased emphasis on songwriting and atmosphere, resulting in the Awaiting Rebirth 10″ EP. A hideous, harrowing thrust of death-drenched decibels, Awaiting Rebirth winds 'n' wends through various corridors of madness, always with an eye on twisting-the-knife songwriting and dangerous, near-combustible execution. Red-eyed and rabid, Bones render this three-song EP a study in classic Metal of Death values, and yet not once falling back on retrogressive cliches. Once again recorded live in the studio, Awaiting Rebirth bursts forth with an organic and authentic sound, every nuance and gnarled note able to be heard in deathly clarity.
Bones have been very active live in the past year and a half, in both Belgium and abroad, and have performed with Obituary, Nocturnus AD, Morbus Chron, Necrowretch, Master, Sonne Adam, Anatomia, and Undergang, among others. And now, with Awaiting Rebirth, the band are poised 'n' primed to take the death metal scene by force.
---
Don't forget to follow our Spotify Playlist: