Elton John resides the casino for three more years
|
Caesars Entertainment and AEG Live have announced that ELTON JOHN will extend his original three year contract at The Colosseum at Caesars Palace and will return with his critically acclaimed show, "The Million Dollar Piano," for three more years. Tickets for the following January, March and April 2015 performances will go on sale Sunday, Oct. 26 at 10 a.m. PT: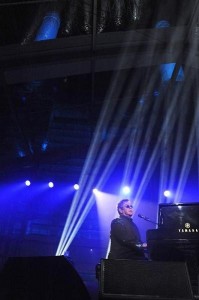 January 16-17 Friday, Saturday
January 19-20 Monday, Tuesday
January 23-24 Friday, Saturday
March 18, 20, 21 Wednesday, Friday, Saturday
March 23-24 Monday, Tuesday
March 27-28 Friday, Saturday
March 30-31 Monday, Tuesday
April 3-4 Friday, Saturday
April 6-7 Monday, Tuesday
April 10-11 Friday, Saturday
April 13-14 Monday, Tuesday
World-renowned singer, songwriter and performer Elton John made a triumphant return to The Colosseum at Caesars Palace with his all new show, "The Million Dollar Piano" in Sept. 2011. At the centerpiece of the performance is the show's namesake piano, an engineering marvel featuring more than 68 LED video screens created by Yamaha.
Elton is accompanied by his band, which includes Davey Johnstone on guitar, Matt Bissonette on bass, John Mahon on percussion, Nigel Olsson on drums and Kim Bullard on keyboards, with a special appearance by percussionist Ray Cooper.
"The Million Dollar Piano" features iconic hits and classic album tracks from throughout Elton's incredible five decade career, including a selection of songs from his highly-acclaimed 16 times platinum remastered album "Goodbye Yellow Brick Road," which recently celebrated its 40th anniversary.
The monumental career of international singer/songwriter and performer Elton John spans five decades. He is one of the top-selling solo artists of all time, with 35 gold and 25 platinum albums, 29 consecutive Top 40 hits, and he has sold more than 250 million records worldwide. Elton holds the record for the biggest selling single of all time, "Candle in the Wind '97," which sold 37 million copies. Since his career began in 1969 he has played almost 3,500 concerts worldwide.
---
Don't forget to follow our Spotify Playlist: