Ex Iron Maiden Singer Blaze Bayley To Join Hell City As Special Guest On UK 2014 Tour
|
Belgium's female fronted Hell City are visiting the UK on their 'Ice Cold Rage' tour in February 2014 and they have ex Iron Maiden singer Blaze Bayley appearing as a special guest at all three shows with further support from Mental Circus who are also a female fronted rock outfit.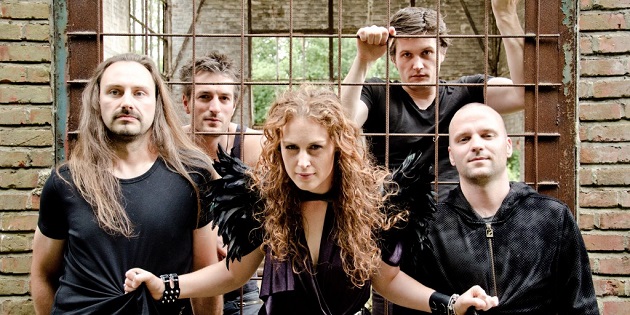 The band have been enjoying massive success in their native home of Belgium and with their 2012 album 'Demons to Rest' and after such a positive response to their music from UK fans, they thought the time was right to head over to Blighty. Tommy, drummer with Hell City said : "After playing Metal Female Voices Fest last year, loads of people were asking when we would come to the UK to play. We put it together with JMG Agency and after Blaze suggested that he would like to do a guest appearance at all shows we knew this was going to be fantastic for us. With our friends from Mental Circus with us, we're really looking forward to let England know about us"
Ex Iron Maiden front man Blaze Bayley had previously played with the band at Belgiums Biesenrock in 2013
Tommy Continued "I'm co-organizer of the Belgian BiesenRock festival where we had former Maiden singer Paul Di'Anno as headliner on Friday. Paul brought Blaze as a guest to the show. Blaze was staying in Belgium with relatives and he promised to come back the day after to perform two Maiden songs with us on the Saturday. That was an awesome experience because Blaze is a truly great guy. When I contacted him to tell him about our UK adventure he instantly suggested to do a guest appearance for each of the shows"
Blaze said "I really enjoyed my performance with Hell City at Biesenrock last year so I was excited to be chosen as the special guest on their UK tour. I can't wait to meet their UK fans and having a great party!" Hell City's video for the new single 'Ice Cold Rage' has been positively received by fans and critics alike and the song will appear on the bands upcoming as yet untitled album.
The three UK dates are sure to be a success and with the amazing sounds of Mental Circus appearing as support, the best of Belgium's emerging talent is ready to take on the UK metal scene.
---
Don't forget to follow our Spotify Playlist: