Unsigned Bands Have Chance To Perform On Stage At Lakefest 2014 Alongside Fun Luvin' Criminals
|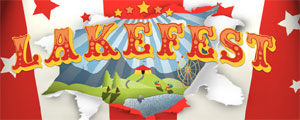 Your chance to perform on stage at Lakefest 2014 alongside Fun Luvin' Criminals, SNAP and Lee "Scratch" Perry
Lakefest has launched an exciting competition for unsigned or upcoming bands to take part in an "Online Battle of the Bands", a competition where artists are invited to forward a video of them performing, which the organisers upload to a dedicated You Tube page, and members of the great British public vote. Likes on each video will be counted as votes. The four or five 'most liked' will go through to a live final where they will battle for a place at the festival in front of a panel of three judges. The band that wins the competition will be guaranteed a spot on stage at Lakefest 2014.
To apply, bands can be recommended or can put themselves forward by emailing livewire2014@hotmail.com. They should include a video (preferably a link) that they want to be uploaded onto the YouTube channel; this is what they will be judged on by the public. Entry videos will go live within the next few weeks so that voting can start.
Lakefest will be taking place on 8th – 10th August 2014 at Croft Farm Waterpark, near Tewkesbury, Gloucestershire. In December the organisers announced the first set of acts in their 2014 line-up which included 90's throw-backs Fun Lovin' Criminals, Snap and Lee 'Scratch' Perry.
New York based Fun Lovin' Criminals – are recognisable from a number of films by Quentin Tarantino and hit singles such as Scooby Snacks and Crazy Train. They are an alternative, hip-hop group often singing about life in the big apple; they have been a huge success to date, selling over 10 million albums worldwide. Joining Fun Lovin' Criminals at Lakefest 2014 will be virtuosi German duo Michael Münzing and Luca Anzilotti who are formally known as "Snap!". Snap! is most famous for their music in the 90's with singles such as "The Power" and "Rhythm is a dancer". For those who enjoy House/Eurodance music, the duo is not to be missed at Lakefest this summer.
Finally Lakesfet organisers add Lee "Scratch" Perry into the mix; notorious for his reggae styled music. Perry was named in Rolling Stone's top 100 artists of all-time in 2004 and will be recognised more recently for starring in video game Grand Theft Auto V on Blue Ark radio station.
Lakefest will be making two further line-up announcements over the coming few weeks to conclude their list of nine top bands over three days.
Tickets are selling fast with 50% of tickets already sold!
---
Don't forget to follow our Spotify Playlist: